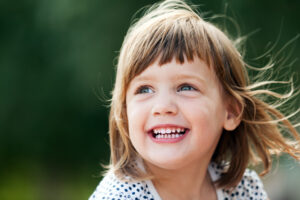 We want to help the kids in our community enjoy good oral health, avoiding tooth decay. To do this, our team offers unique preventive treatments like dental sealants and fluoride treatments. In today's blog, your Shrewsbury, MA, dentist talks about how we protect children's smiles with pediatric dentistry.
The Causes of Childhood Cavities
Cavities form in teeth when harmful oral bacteria reach the dentin, the sensitive structure typically protected by the outer enamel. This could happen due to injury or teeth grinding, which damages the enamel. But for most kids, a diet high in sugar and starch, combined with poor oral hygiene habits, such as infrequent brushing and flossing, could create a plaque buildup that weakens and erodes the enamel to expose the dentin can cause tooth decay. Children then experience painful sensitivity and toothaches that grow in severity until the cavity is treated. However, with better oral hygiene habits and our preventive treatments, kids could lower their risk of tooth decay and dental infection!
Fluoride Treatments
During each of your child's checkup visits, our team will administer a topical fluoride gel to the teeth. The gel strengthens the outer enamel to make cavities less likely to form. The process only takes a few minutes and kids need to avoid food and drink for about 30 minutes. Your kids should also use fluoride toothpaste, with kids three and younger using a rice-sized amount, and everyone else using a pea-sized amount.
Dental Sealants
Dental sealants are a thin acrylic coating we add to the molars, the rear teeth kids often have trouble brushing and flossing thoroughly. These sealants prevent food and drink particles from being stuck between these hard-to-reach teeth, lowering the risk of tooth decay. The sealants stay in place for up to ten years and wear away gradually with time, clinging the longest to the more vulnerable portions of the teeth. Again, application takes minutes and children just need to put off eating and drinking for about 30 minutes.
Fillings
If a cavity is present, then children need a filling. Even if decay forms in the baby teeth, treatment is crucial for avoiding infection or tooth loss. The placement process only takes one visit, and the material we use is metal-free and safe for all ages. If you have any questions about how to protect the teeth from cavities with pediatric dentistry, then contact our team today to learn more. We want to help your little ones enjoy optimal oral health!
Speak With Your Shrewsbury/Grafton, MA Dentist's Office About Pediatric Dentistry
Our team wants to help safeguard little smiles against the onset of tooth decay. If you would like to find out more about helping your children enjoy good oral health, please reach out to Modern Dentistry Of Shrewsbury at (508) 842-8838.