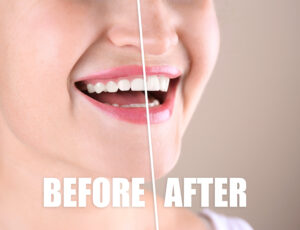 Do you have a smile that shows off too much periodontal tissue when you smile? If so, we can correct the concern in one visit with cosmetic dentistry! In today's blog, your Shrewsbury, MA, dentist talks about gum contouring to improve smile beauty and even address issues like disease-related gum recession, so you can enjoy a healthier and more attractive smile in as little as one visit!
Gummy Smiles
A gummy smile means you display too much gingival tissue when you smile, which could also make your teeth appear short or uneven. This upsets the appearance of your smile, and can't be addressed with traditional cosmetic treatments like teeth whitening or dental bonding. Instead, we need to reshape the gum line and remove these excess tissues, which is done with a safe and gentle contouring procedure. In one visit, we transform the beauty of your smile, and you only need a day to heal in most cases.
Gum Contouring
With gum contouring, we will thoroughly examine your smile and then mark the periodontal tissues that need to be removed. With laser dentistry, we gently trim away the excess tissues. In the process, we reshape the gum line to improve overall symmetry. Dental lasers can target the treated areas with precision, preventing damage to your healthy gums. The area heals quickly, most people only need to heal for a day. The use of lasers also means no need for sutures or scalpels, and the risk of bleeding, infection, and swelling is significantly reduced. In fact, we don't even need anesthesia for the procedure!
Treating Recession
Periodontal disease is a concern that impacts half of those over the age of 30, leading to tooth loss unless managed with treatment. We may use the laser technology mentioned above to remove diseased tissues so healthy ones can reattach to the teeth. But we also have treatments known as gum grafts, which allow us to extend the gum line to cover the exposed portions of teeth. This corrects gum recession and prevents the risk of cavities and infection in the teeth. You now have a healthier and more attractive smile.
If you have any questions about how we address gummy smiles or correct recession, then contact our team today to learn more. Our team wants to help you enjoy good oral health and a smile that makes you feel confident!
Speak With Your Shrewsbury/Grafton, MA Dentist's Office About Our Cosmetic Treatments
Our team is ready to help improve the health and beauty of your smile in only one visit with gum contouring. We can also address receding tissues with gum grafts too. If you would like to find out more about reshaping and transforming your smile with cosmetic dentistry, then please reach out to Modern Dentistry Of Shrewsbury at (508) 842-8838.